Have you heard the news?! That's right my sister is going to...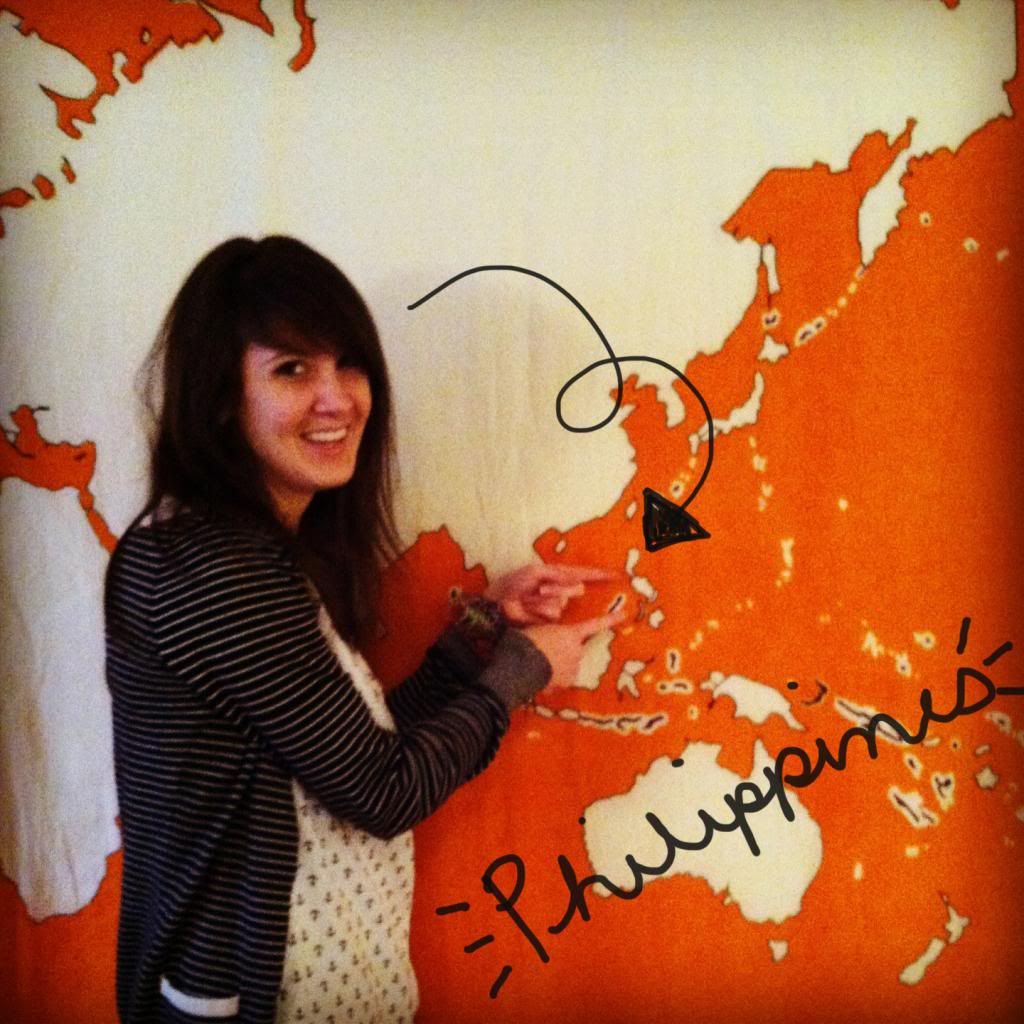 My sister, who has already been to Haiti, Venezuela, and India, is going to the Philippines for two years with the Peace Corps. I already knew that I wanted to visit her where ever they put her, but all along I was thinking Peru because that was her first choice. But here she is leaving in July for the Philippines.
I never thought I'd be wanting to go to Asia any time soon. I've been saving change and the few tips I get at work for possible trips. I've been wanting to visit the West Coast of the USA again (Arizona, San Francisco, Seattle) but I've also been dying to visit Europe. I wasn't sure what I was saving up for but I knew I needed to make a decision soon so that I knew how much I had to start putting away. I always thought I'd visit Europe before Asia, but here I am making a wish list of places I want to visit in Asia.
I figured I'll try to visit next year sometime. It's just tough because it's a LOT of money and I'm already paying a fortune in loans. Not only do I have to buy a plane ticket over there, but I also need to start thinking about food and shelter. If I plan on being their for at least a month that won't be cheap. Luckily, I've been paying more on my car so I should have it paid off by the beginning of next year and then put the extra money towards my trip. But I don't work at great paying jobs, so I'm hoping I really can make it before she returns. I also figured since I'm visiting the Philippines I'll save up and do a bit of traveling to other countries.
Ever since my sister told me about her placement I've been trying to think of places I wanted to visit. Let me tell you it's a lot harder thinking of places in Southeast Asia than it is for, say, Europe. I can name a million places I want to visit in Europe, but when it came to Asia I was drawing a blank. I also want to travel to places that will be the cheapest. Unfortunately, that means I really have to pick and choose where I want to go. That means places like Korea and China will be at the very end of my list and India won't even make it on. Anyways, without further ado here is my list:
Burma/Myanmar
I would love to visit Bagan and the Shwe Dagon Pagoda.
Bagan
Shwe Dagon Pagoda
Philippines:
Obviously, I would visit my sister where ever they place her in the Philippines and hopefully, if she can't travel to other countries, she can travel around the Philippines with me. I really want to see the Banaue Rice Terraces, Taal Volcano, and possibly some beaches. I'm not a beach person in the least, but when in Rome, or the Philippines, do as they do.
Banaue Rice Terraces
Taal Volcano
Cambodia:
Cambodia has very pretty temples. I'd love to see Angkor Wat or Ta Prohm Temple.
Angkor Wat
Thailand:
There are a great deal of places I would love to visit in Thailand! Bangkok would absolutely be one of them. I'd also like to see the Grand Palace, Ayuthaya, Sukhothai, and Phang Nga Bay. I mean come on look how awesome that rock is at Phang Nga Bay. It's crazy that something like that actually exists!
Ko Tapu at Phang Nga Bay
Vietnam:
I would love to visit Vietnam! As a history buff I've learned a lot about the country. Although, the history we learn about is pretty terrible, it would still be awesome to get an understanding of their culture. I would love to see the Old Quarter of Hanoi and Sapa!
Fruit market in Hanoi
If I have the money and the time I would also like to visit the Great Wall of China in China. I'd love to see Tokyo, Mt. Fuju, and Kyoto in Japan. Those are just a few places I'd like to see.
I also found this awesome website that shares how to pack for different parts of the world, including places in Asia! You can visit the Ultimate Female Travel Packing List
here
! The other site I will take advantage of explains how to pack two weeks in a carry on. You can visit that site
here
!
Have you ever been to Asia? Is there any place you'd like to see, especially around the Philippines? Do you have any helpful tips for traveling or any websites I should check out. I've never left the country (I haven't even been to Canada), so I am completely open to suggestions. Also I'm also recruiting people to join me! :)

**None of these photographs are my own nor do I claim them to be my own. You can find the original source by clicking the photo. The first picture I am using with my sister's permission from her Instagram.